Come and join us for this 2-day workshop covering Traditional and Modern Versals. Versals are compound letters built up with separate strokes so the technique is more like drawing than writing and we will use our dip pens.
Sat 9 & Sun 10 September 2023 from 10am – 4pm
Cost £60 (£30 for Day One)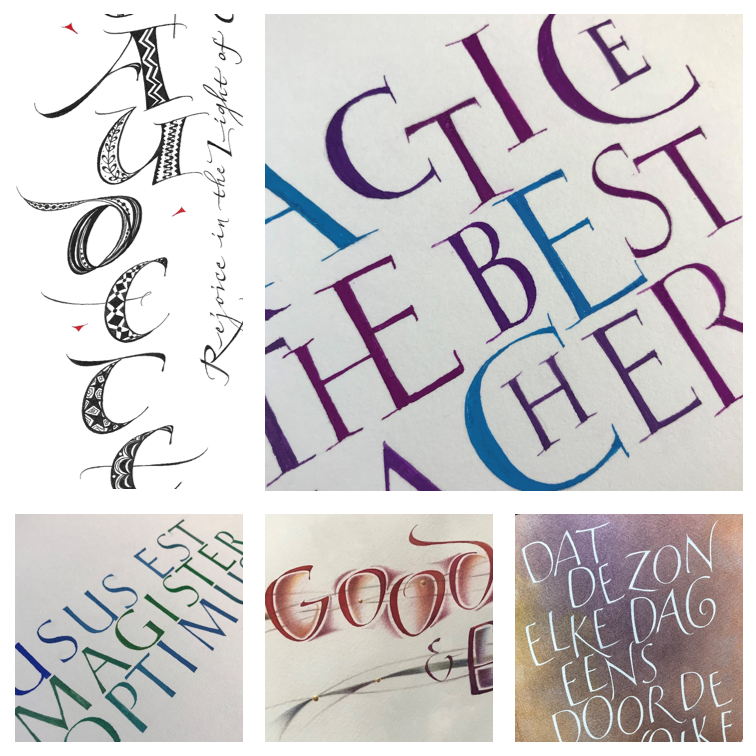 Day One – Traditional Versals. Learning a step-by-step method for drawing classical Versals, based on the letterforms of the Roman Capitals as can be seen in the 9th-11th century Caroline manuscripts. Those with prior experience in drawing the traditional Versals are welcome to work through set exercises to bring variation and contrast in their letterforms. In the afternoon we will explore how traditional Versals can be used in a range of projects.
Day Two – Modern Versals. Using techniques for freeing up our Versals from Day One to bring them into the 21st century. This will lead to the discovery of alternative letterforms which look great in informal work. In the afternoon we will use the Versals learnt during the weekend to create exciting compositions, using contrast and colour.
Note: Attendees are allowed to attend Day One only to learn and practise Traditional Versals. To attend Day Two (Modern Versals), it is expected that you have attended Day One as Day Two is a further development of what has been learnt during Day One.