During the summer of 2018, some of our CPS members met up with Professor Alison Findlay (Lancaster University) to discuss how we could contribute in a calligraphic way to the literary 'Dramatizing Penshurst Festival' that took place at Penshurst Place, from 28th August until 19th September 2018. We agreed to write out the 'Crowne of Sonnets Dedicated to Love', written by Lady Mary Wroth, which formed part of her sonnet sequence 'Pamphilia to Amphilanthus' (published in 1612).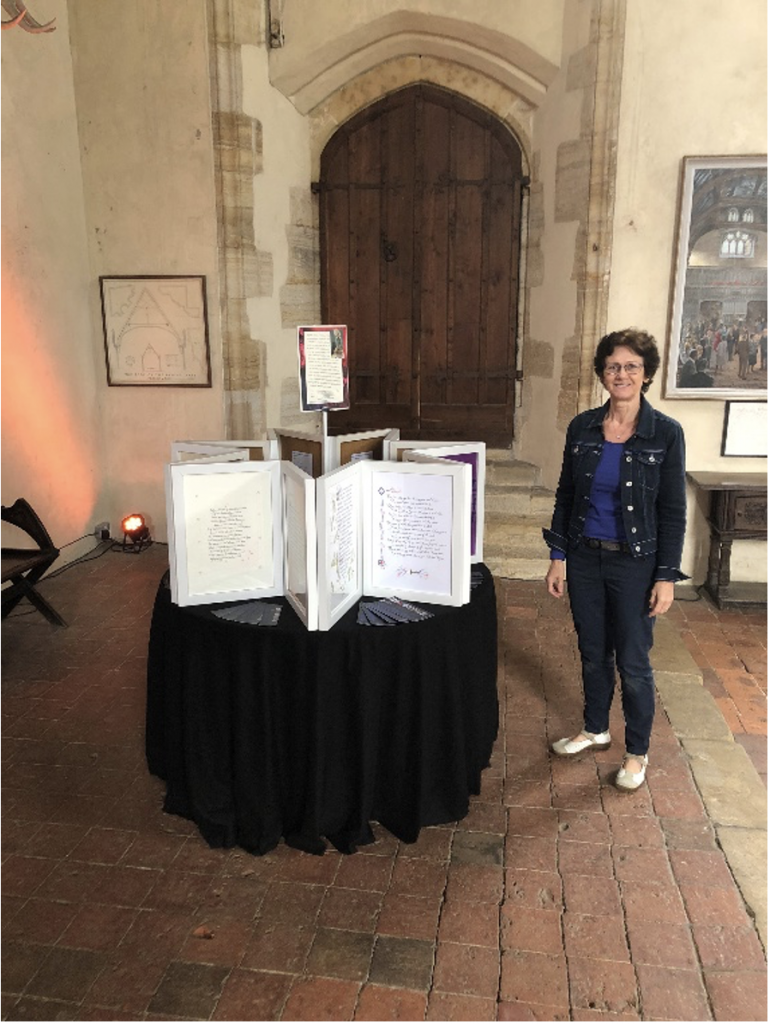 Penshurst Place, near Tonbridge in Kent, has been the family home of the Sidney family since 1552. Several members of this family were poets and writers. Lady Mary Wroth (1587-1651), daughter of Robert Sidney and Barbara Gamage, grew up at Penshurst Place. She was a contemporary of Shakespeare. Her 'Crowne of Sonnets' is a series of 14 interlinked poems of 14 lines each. The last line of each sonnet forms the first line of the next sonnet, with the last line of the last sonnet also being the first line of the first poem and as such closing the circle and forming a crown.
The ten volunteer CPS calligraphers were invited to choose one or two of the 14 sonnets to write out in the Italic hand, which was the hand that was used by Lady Mary Wroth. We agreed that it was important that all participants could use their own inspiration and personal talent to artistically present their sonnet(s) and bring variety within our group project.
To create a coherent display, we used white A3 frames and arranged these in the shape of a crown, standing on top of a round table dressed in a black cloth. Our crown of sonnets was displayed at Penshurst Place during the 'Dramatizing Penshurst Festival 2018' in the impressive medieval Baron's Hall, which formed the perfect setting for our group project as it linked the text to its historical place of origin, where the sonnet sequence had been written almost 400 years ago.
Email: [email protected]